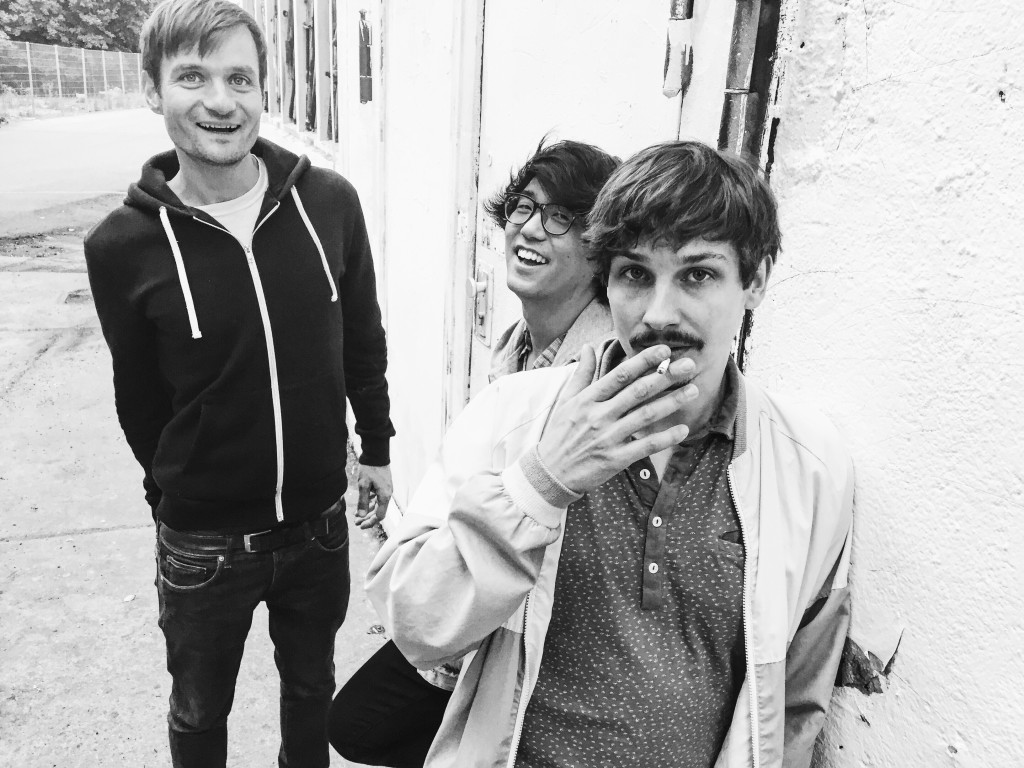 About
Keisuke Matsuno – Guitar (New York)
Alexander Binder – Bass (Berlin)
Jan Roth – Drums (Leipzig)
Trio Schmetterling [The Butterfly Trio] hits the road to its own stylistic spheres. Influenced by post-rock, experimental music, minimalism, avant-garde, and jazz, their music is still incomparable; floating, but not arbitrary.
In the classic trio line-up, nothing here is classic: The guitar roars as a sound-scape, the bass sings, and the drums tell a story. The intricate trio creates melodies which contrast with rhythms and generates surprising dynamics.
The instrumental songs produce an exceptional vivid narrative which seems like a conversation between the three musician. Trio Schmetterling is not a band but a musical expression of friendship. Alexander Binder, Keisuke Matsuno, and Jan Roth, living in both New York City and Berlin, alternate between their own projects and indie rock bands as well as improvised music, pop, and electronic music. In the moment these three musicians come together they create magic and a universal understanding of the music.
All beauty has a beginning, and in this instance, it began with bassist Alexander Binder in 2007. In Trio Schmetterling, one truly experiences his musical personality. Traces of his expressions can also be heard through the CDs of Clueso and Max Herre, in addition to playing guitar for Max Prosa. After completing his studies in the Swiss mountains he has since then returned to Germany and lives in Berlin.
Berlin native Keisuke Matsuno is an integral part of the diverse creative music scene in Brooklyn, experimenting and enjoying the delights of creating new sounds. He has been part of various bands besides Trio Schmetterling, such as the experimental electro-acoustic duo with Lars Graugaard or with Jim Black's Smash And Grab.
Jan Roth's acquaintance assures entertaining evenings. The drummer's most recent piano release, "Songs Without Words," is garnering attention. He also serves as the percussionist for the trendy Hamburg indie band Hundreds. He now makes his home in the seclusion of Leipzig.
Found in 2007 during a late night jam session, trio trio, three years later, released their self-titled debut album on the Leipzig based label Analogsoul. It has collected rave reviews in Japan, the U.S. and Germany. In the summer of 2012 they recorded at the former radio broadcasting studio of East Germany, finishing their newest record 'Globus' (Traumton Rec).
Presse:
"The trio as consubstantiality. Intouchable, intangible like mother nature." – Tages-Anzeiger, 01/2015
"This is really the best recording I have heard this year. Wow!!!!!!!!!!!!!!!!!!!!!!!!!!!!" – Frank Moebus, 11/2013
"Newcomer of the month" – JazzZeitung, 11/2013
"Extraordinary music, dazzling like a wing of a butterfly. (…) Guitarist Keisuke Matsuno is one of the most exciting new voices in New York." – Jazzthing, 11/2013
"Had this been recorded by the likes of Tortoise or Radiohead, it would have already been hailed as an all-time classic – it's that good." – Sean Smith, TokyoJazzNotes, 01/2010
"For those who get into free or experimental jazz, for those who love to have mind travelling and also for those who want to have an out of mind experience through music" – Riandy Kurniawan, Jazzuality, -1/2010
"Trio Schmetterling may not be a jazz band for some of you but they surely aren't a rock band for me. This is the work of a young band in progress but the progress is quite impressive." – Stephan Moore, JazzWrapp, 01/2010